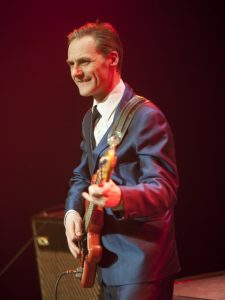 I am a busy electric bass player. Currently my main position is bass player for Lee Memphis King, one of the UK's top Elvis Tribute artists. Also I play bass with Rock n Roll trio The Stingrays and can often be seen at local Jazz clubs.
Brief Musical history:-
I was taught classical piano, and after hearing Elvis Presley in the film 'That's The Way It Is' I decided I wanted to be Elvis. After listening to more modern music (compared to classical) I decided it was the bass guitar I wanted to play. My influences being James Jameson (motown), Jerry Scheff 
(Elvis' live 70's bass player). This list has since got longer.
I formed my first band with some school friends and my Dad (he could actually play compared to the rest of us). After a few years and drummer walked in a pub I was playing in and poached me from my own band into his. A Rock n Roll band called the Cavaliers. I didn't know you could get gigs only playing 50's Rock n Roll. I was almost sacked after a few rehearsals for playing too many notes. Amongst some great Rock n Roll gigs, we mostly played rock n roll pubs, we were fortunate to be booked on a long term contract playing on Brittany Ferries.
I went on to join another Rock n Roll band playing more British rock n roll, call Jet Black. They were highly regarded on the circuit and my favourite band at the time. Highlights would be playing the at Birmingham NEC for the motorcycle show. An event we played at a few years running.
After Jet Black, I wanted to play some of the music that first influenced me, soul and motown. I started a 60's band with the drummer from the Cavaliers and found a great singer and guitarist called Darren. We never played soul or motown. It was raw 60's Beatle mania era of music.
With my background in British Rock n Roll I was asked to replace the Bass player of a highly respected and regarded band called The Rapiers. They were a Shadows style band, at the time of joining, they also covered early beat music (pre Beatles). We played theatre shows backing some original artists from the 60's, including Jet Harris, Mike Berry, John Leyton, Billie Davis and many more. Oh, not forgetting a song and chord with Cliff Richard. With them I appeared on Stage at the Prince of Wales theatre in London's west end with a show called Cliff The Musical in addition to other touring shows. The major ones are detailed below.
More recently I joined an Elvis Tribute Artist called Lee Memphis King. I'm back to my original influences. I'm very fortunate to play and have played with artists and bands that are the best in their field. I also play bass for a 3 piece Rock n Roll band called The Stingrays.
In between I have filled in for other bands usually with the Cliff Richard Shadows or Rock n Roll connection.
The Rapiers bass player (2001 – 2015)
Played bass for:-

Jet Harris
John Leyton
Craig Douglas
Mike Berry
Billie Davis
Denny Laine
Wee Willie Harris

Cliff the Musical – Tour (UK and West End, 2003)
Born to Rock n Roll – Tour (UK, Denmark, 2005)
The Best of Me – Tour (UK, 2006)
Chartbusters / Flashback (touring show covered for bass player)
Butlins Bogner Regis (Various, provided cover for Bass Chair. Steve Etherington MD)
Bass for Marvin Ruffin – brief theatre tour
Billy Lewis' Drifters
Made in Britain – the 2 5 special – Tour (UK 2008-9)
Cliff and the Shadows tribute show tour (Netherlands 2010, 2011, 2012, 2014)
Guys and Dolls (2015 Local AmDram society CROADS)
Bass player for Lee Memphis King Elvis Tribute Artist (Touring UK, Israel, Europe, 2015 – present)
CD's (still available)
I have been on a few CDs over the years. mostly with bands I've been with. The only CD I'm aware of still available is from the Cliff and The Shadows tribute show. Available at the following link:-
http://therapiers.bigcartel.com/product/a-tribute-to-cliff-richard-and-the-shadows
Current Equipment
Bass Guitars
Fender Precision Bass
Fender Jazz 5 String bass
Amplification
Genz Benz Shuttle 9.2
Aguilar SL112 cab
Contact
e-mail :  nathanjhulse@gmail.com